Summer is in full swing and that warm weather means trips to the beach. Here are six tips to help you capture those perfect shots when you and your camera hit the beach this season.
1. With Beach, Comes Sand
Sand and lotion can be a dangerous combination when it comes to cameras. Be wary of windblown sand and oily fingers, and use extreme care if you have to change lenses. Consider using a filter to act as a barrier and protect your lens from sand scratches. Sand made its way in anyway? Blow it off or come in to Camera Land and have one of our professionals clean it for you.
2. Timing Is Key
Timing is key when shooting at the beach. There are two main reasons why you should consider shooting early in the day or later towards the evening – first is so that you can get the best shot with the best light. Shooting when the sun is closer to the horizon reduces shadows on the face and allows you to play with backlighting and haze. Too much haze? Don't forget your lens hood. Experiment with using a fill flash to light your subject's face and add detail to darkened areas without losing highlights. You'll be pleasantly surprised with the outcome. The second reason is that hopefully the beach will be less crowded early in the morning or late in the evening allowing you to capture shots without added or unwanted subjects.
3. Maybe a Silhouette?
Go for drama with a silhouette. Once again, hit the beach when the sun is near the horizon and shoot into the light. Check to make sure that your subject is isolated so the silhouette looks good, change your settings to spot metering and meter for the sky, get down low, and don't forget the rule of thirds (keep the horizon line at the bottom third).
4. Don't Forget the Details
Think sandcastles, sandy toes, water droplets and splashes, patterns in the sand, etc. Don't just shoot the obvious and have fun experimenting.
5. Horizontal Horizons
Get your horizons straight the best you can. Shoot wide and leave enough room for straightening and cropping when editing your images.
6. Embrace Bad Weather
Less than ideal weather can produce some really stunning shots. Stormy dramatic skies and clouds can make for some really amazing images, while fog may produce some ethereal photos.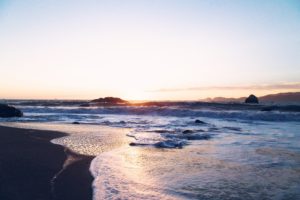 Shooting at the beach can be a lot of fun so embrace the weather and your surroundings, and have fun experimenting. Want to learn more? Visit our Learning Center or come into the store. Our in-store experts are happy to help you attain that professional look or answer any questions. Whether you are a beginner or an expert, Camera Land is here for you. For more information, give us a call at 516-217-1000 or visit our website.